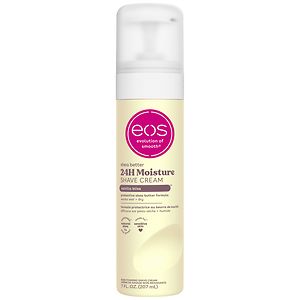 As Miss Lauren mentioned on Monday, we had a long overdue visit this past weekend. I was very sad to see her go, and Baby Girl looked for her when she woke up from her nap on Sunday, so she misses her, too.
I did end up getting a little bonus from her trip on Monday, though. My schedule was a little bit off, so I needed to take a shower while BG was awake, which is complicated. (Fellow mamas, you know what I'm talking about!) I stuck her in her crib with a bunch of toys and jumped in the guest bathroom shower which is next door to her room. I ended up using the
EOS shave cream
that I picked up at Target for a paltry $3.49 last week when I was doing a little refresh on the guest amenities. It's lovely! I'm usually not a shaving cream user at all, and this inspired me to shave my legs two days in a row for fun in the middle of January! That's saying something. It's more of a lotion than a traditional foam, and the Vanilla Bliss is a surprisingly fresh scent. Hope this gives you a reason to shave those fuzzy gams in the middle of winter!
Stay Smooth,
AL