Last week, I discovered the series Revenge and the free trial week on Hulu+, a dangerous combination. Suffice it to say, I'm all caught up on all 13 episodes of the first season, and I have a slightly annoyed husband. I actually really like the plot, and I really love the clothes! It got me thinking about all of the shows I watch half for the story and half for the clothes, so here they are for your (future) viewing pleasure.
1. Revenge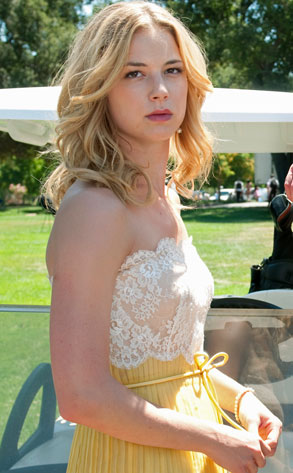 I won't bore you with the details here about how the whole story goes, since that's not really what we are about here, but it's worth checking out! The main character, Emily, has an amazing, refined-but-beautiful wardrobe. I want to fully credit
Possessionista
for telling me who makes all of her clothes and for making me crazy when all of them are out of stock. And Shopbop.com has a
page
dedicated to dressing the part of the lovely Revenge characters. The only thing that makes me crazy is that they keep putting the wonderfully-cast Madeleine Stowe in dresses one size too small. Yuck! Oh, and you are in luck! The next episode is on tonight!
2. Glee
I know, I know. The plot has been a little lacking since the first season, but watching Emma's steady stream of adorable cardigans and pencil skirts makes the plot holes almost forgivable.
3. Gossip Girl
And again, if you are watching this season, some of the story lines have been a bit of a stretch, and that's saying something for a show that was never really about amazing writing, but the fact that I pretty much made myself crazy looking for the Marc Jacobs sweater pictured on Charlie above pretty much says it all. Oh, except that I love headbands. And Blair. And all of the Marchesa. Oh forget it, they could start airing the show without sound, and I'd still watch for the clothes. (Check out this site for sources for all of the clothes: http://www.gossipgirlfashion.net/) xoxo, blogger girl!
What do you love to watch for stuff to wear??
Happy Watching!
AL